In retaliation against a recent spate of aggressions, including a rocket attack in Iraq last week that wounded US troops, President Joe Biden launched military airstrikes in late February against two Iranian-backed militias in Syria. This was done in response to a rocket attack on the airport in Erbil, northern Iraq, on February 15, that killed a Filipino contractor working for the US-led military coalition and injured six others, including a Louisiana National Guard soldier and four American contractors. The airstrike was the Biden administration's first military operation, and Biden's decision to strike in Syria seemed to signal the desire to protect US troops in Iraq, rather than the desire to expand the US military participation in the area.
According to the Pentagon and American officials, the attacks were small and carefully calibrated, with seven 500-pound bombs dropped on a small cluster of buildings at an illegal border crossing between Syria and Iraq that is used to smuggle weapons and fighters through. Defense Secretary Lloyd Austin told reporters, "I'm confident in the target that we went for, and we know what we hit." Shortly after the airstrikes, he added, "We're sure that that target was being used by the same Shia militants who conducted the strikes."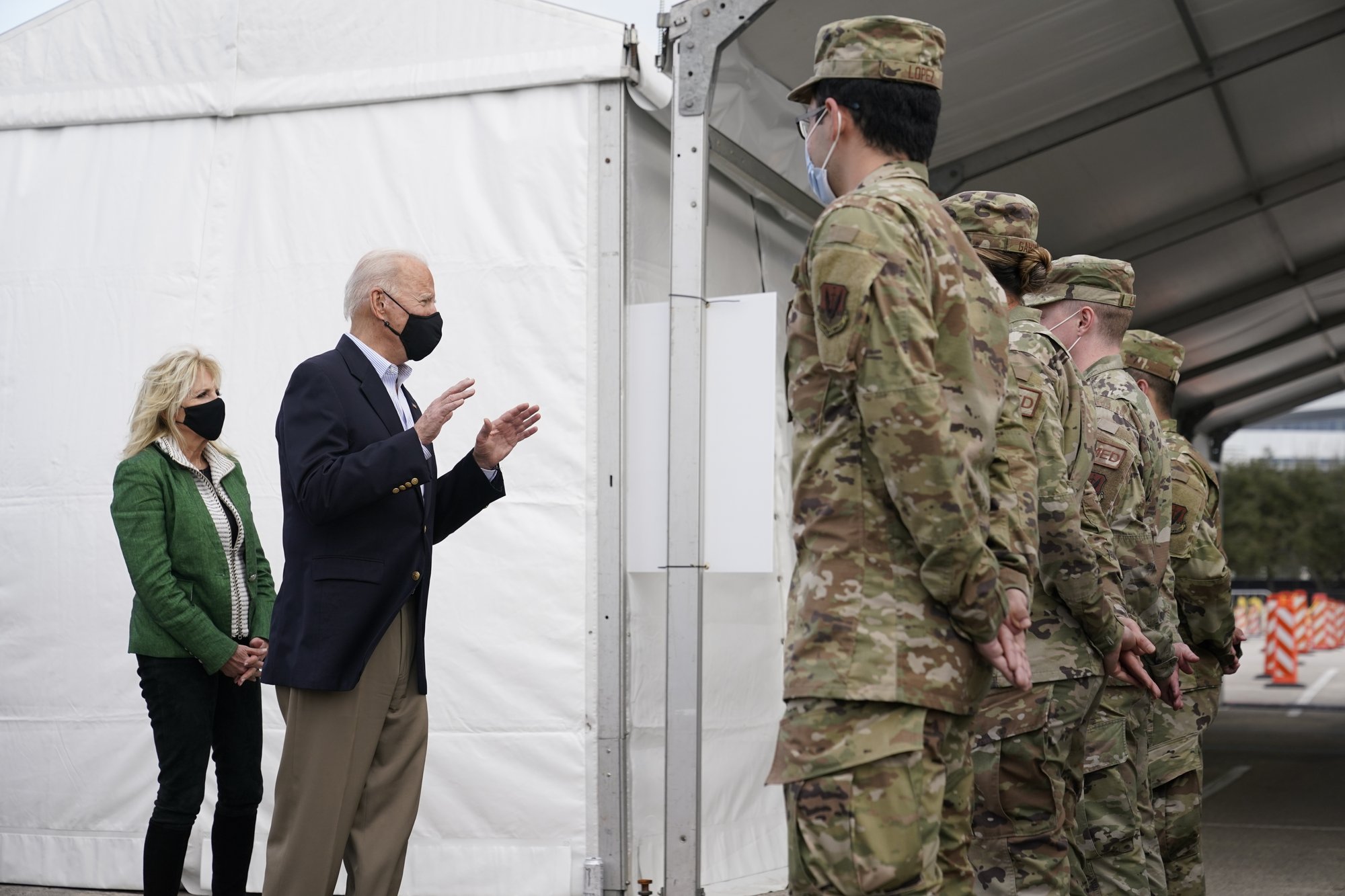 Multiple facilities at a border control point used by several Iranian-backed militia troops, including Kataib Hezbollah and Kataib Sayyid al-Shuhada, were destroyed by the American airstrikes. Although the US has not reported any casualties, an Iraqi militia official told the Associated Press that at least one fighter was killed and several others were badly wounded and injured. At least 22 fighters from the Popular Mobilization Forces, an Iraqi umbrella coalition of mostly Shia paramilitaries that includes Kataib Hezbollah, were killed in the US attack, according to the Syrian Observatory for Human Rights, a UK-based monitoring group. According to Rami Abdul Rahman, "The strikes destroyed three lorries carrying munitions. There were many casualties."
The president's decision has been praised and applauded by some experts. Phillip Smyth of the Washington Institute for Near East Affairs, who specializes in Shia militias, stated that this was a brilliant move by the Biden administration, as it indicated to Tehran that the new American team is ready to strike Iranian-linked targets anywhere they operate in the Middle East. Smyth also added that this was a way of sending the message without enraging Iraq, which had reacted angrily to US airstrikes on Iranian proxies in Iraq during Trump's presidency, seeing them as a breach of Iraqi sovereignty; targeting a Syrian weapon facility avoids this issue.
On the other hand, Syria's foreign ministry has said that it strongly opposes and condemns America's cowardly violence and aggression, and stated "It is a bad sign regarding the policies of the new US administration, which should adhere to international norms." Russian Foreign Minister Sergei Lavrov said the US needed to be more clear about its intentions for the region, and he blamed the US for giving Moscow, Syria's main ally, only "four or five minutes" notice of the attack. In response, the Pentagon Press Secretary John Kirby stated that the attack was intended to punish the militias rather than exacerbate tensions with Iran, with whom the US is trying to resume negotiations over a nuclear agreement that former President Donald Trump had abandoned.
The US has classified Kataib Hezbollah as a terrorist organization since 2009, accusing them of endangering Iraq's peace and stability. Over the last two years, the US military has reduced the number of troops in Iraq to under 2,500 and has withdrawn from many bases there. Iraq no longer requires the assistance it once did to combat the Islamic State, though American officials have admitted that militia attacks played a role in the decision to relocate troops to bases that are easier to defend. Iran has stated that it would retaliate further for the January 2020 American drone strike in Baghdad that killed a top Iranian general and a senior Iraqi security official.
---
Sources
https://www.bbc.com/news/world-middle-east-56205056
https://www.nytimes.com/2021/02/25/us/politics/biden-syria-airstrike-iran.html
https://www.nbc12.com/2021/02/26/us-bombs-facilities-syria-used-by-iran-back-militia/
https://www.latimes.com/politics/story/2021-02-26/us-airstrikes-syria-iran-what-comes-next
https://www.theguardian.com/world/2021/feb/25/us-airstrike-syria-iran-militia
Images
https://www.nytimes.com/2021/02/25/us/politics/biden-syria-airstrike-iran.html
https://apnews.com/article/us-syria-airstrike-kills-1-34b4d7ac56fa8d0d2db8dc2ec8e921d6
https://www.nbcnews.com/news/world/u-s-air-strike-syria-iranian-backed-militia-killed-one-n1259180
---
Feature Image: MAXAR TECHNOLOGIES/REUTERS