In November 2020,  more than 200,000 Indian farmers, workers, and citizens from Punjab, Haryana, Rajasthan, and Uttar Pradesh marched to the capital,  occupied the streets of New Delhi in protest against three new farm legislation. 
India's New Agriculture Bills:
Farmers' Produce Trade and Commerce (Promotion and Facilitation) Act

Expands the scope of trade areas for farmers to trade, from the APMC markets to "any place of production, collection, aggregation". The Act also prohibits state government to regulate trade spaces outside APMC markets. The laws in these species would override wholesale market rules.

Farmers (Empowerment and Protection) Agreement on Price Assurance and Farm Services Act

Provides a legal framework where business agreements would be strictly between farmers and traders or buyers, with little oversight or regulation. These agreements become dependent on terms set by big corporations, leaving farmers with little bargaining power vulnerable, with little to no options to decide.

Essential Commodities (Amendment) Act

Eliminates the storage limits on agricultural items previously set by the government to control prices based on Minimum Support Price (MSP). Only when under " extraordinary circumstances", the central government would interfere and regulate the stock limit,
Agriculture plays a crucial role in India. Approximately 60 percent of India's 1.3 billion people rely on agriculture and farming for their livelihoods. Tens of thousands of farmers have been camping out near several entry-points to New Delhi since 26 November 2020 in protest against the legislation. The results of the new acts may worsen the current farming system, create a dual market system with one supported by the government oversight and another unregulated for direct trading between farmers and corporate players. Farmers fear that they would lose their businesses to big corporations as there is little to no oversight, allowing large companies to drive down prices. With little bargaining power, farmers may not be able to get to decide on prices that would provide them a decent standard of living. This leaves them vulnerable to exploitation as they negotiate their goods to larger companies.
Since India's "Green Revolution" in the 1960s, the Indian government set up a system that guarantees farmers a set price for certain crops, informed by the Minimum Support Price (MSP). Yet, it's not a perfect system. Since then, agriculture has gone from accounting for nearly 50 percent of the economy to just 15 percent, resulting in millions of farmers struggling to make ends meet in an already shrinking economy. More than 50 percent of India's farming households are in debt, contributing to a suicide crisis. From 2018 to 2019, more than 20,000 farmers have died by suicide. The results of decades-long economic hardship pushed Indian farmers to a tipping point as they fear that the three new farm reform bills will dismantle the MSP, allowing corporations to drive down prices with no power to fight back due to little oversight.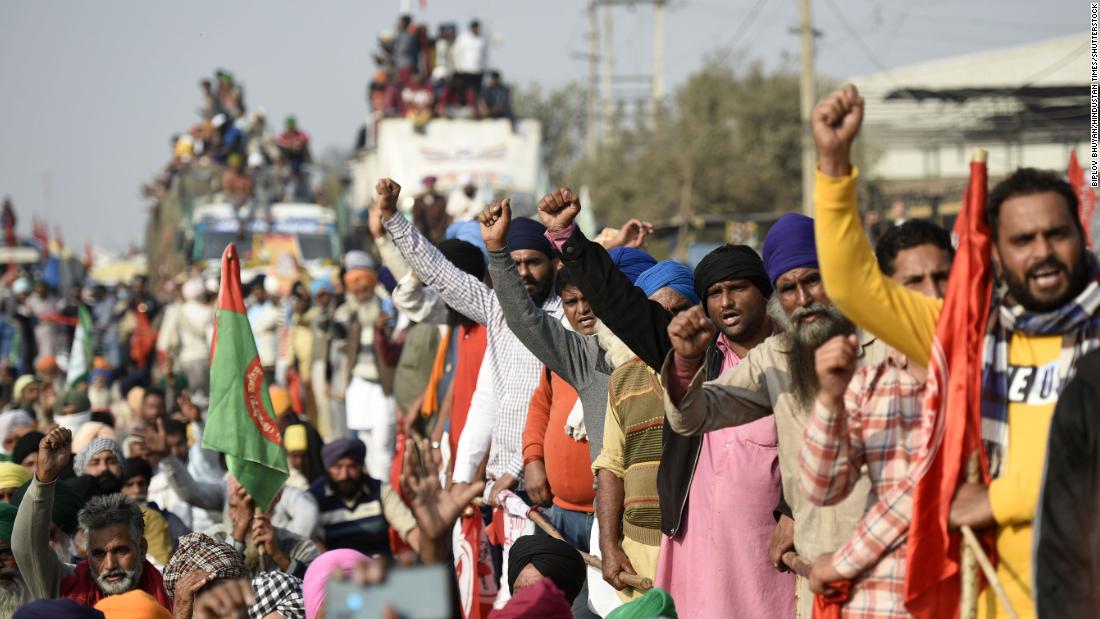 Countries around the world have expressed their solidary with the farmers in India. Including France, Germany, California, New York, Texas, Canada, Netherlands, and London. Several Indian-American protests were held in support of the farmers with governments of these countries also speaking out for members of the agriculture community's peaceful protest. International support for the protest and spreading awareness is pressuring the Indian government to consider the demands of farmers and satisfy their needs.
The vast international attention of the protest is due to the impacts of the new farm reforms that will ripple and affect the world. India is the world's largest producer, consumer, and exporter of spices, producing about 68% of the world's spices. The country is also the world's second-largest producer of rice, wheat, and other cereals, ranking second in fruits and vegetable production in the world. As well as accounting for approximately 40 percent of the world total in cotton production. With heavy reliance on the agriculture production of India, it is vital to under the demands of workers from one of the world's largest agricultural powerhouses.
Indian farmers are taking a stand for the protection of an already failing system in hopes for the government to hear their concerns and push forward effective reforms. It is a fight for the small potatoes that had enough of exploitation and are now marching forward for change.
---
Sources
https://edition.cnn.com/2020/12/11/world/farmer-protests-india-protests-hnk-trnd/index.html
https://time.com/5918967/india-farmer-protests/
https://www.vox.com/2020/12/2/21726648/india-farmer-protests-strike-action-new-delhi
https://www.nytimes.com/2021/01/27/world/asia/india-farmer-protest.html
Images
https://en.reset.org/blog/how-social-networks-are-helping-indian-farmers-hit-coronavirus-lockdowns-06102020
https://www.ctvnews.ca/world/india-s-winter-of-discontent-farmers-rise-up-against-modi-1.5216803
https://www.tribuneindia.com/news/punjab/more-support-aid-pouring-in-from-nris-for-protesting-farmers-at-delhi-177551
https://www.newindianexpress.com/states/telangana/2019/oct/17/spices-board-of-india-to-push-for-turmeric-minimum-support-price-from-telangana-government-2048769.html
---
Feature Image: TIMESDEL