February 1st, 2021 — the initiation of severe political unrest in Myanmar and a day that is far from what Burmese citizens have been dreaming of. On this day, following the National League for Democracy (NLD) Party's landslide victory in the election that took place in November of 2020, Myanmar's military has seized power and has declared a year-long state of emergency, claiming that there was election fraud. The founder of the NLD party, Aung San Suu Kyi, was detained in Myanmar's capital of Nay Pyi Taw along with President Win Myint and her closest allies, just hours before the first parliamentary session after the election, which would have enshrined Aung San Suu Kyi's victory.  
Ever since the national authority has been transferred from Aung San Suu Kyi to the current leader of the country's military known as Min Aung Hlaing, armed forces, as well as military vehicles and tanks have been patrolling the roads of Myanmar's main city, Yangon, and capital city, Nay Pyi Taw. Communication networks, phone services, and internet data across the entire country were disrupted and put down on the first day of this tragic event, not to mention a night-time curfew. Television, media outlets, and broadcast services were shut down, with international broadcasters being blocked. Banks and financial services across the country were temporarily closed as well. Not long after, social media platforms, such as Facebook, Messenger, and Instagram have recently been banned until February 7th, due to the military's belief that citizens have been spreading "propaganda" and inaccurate news across these platforms, and people in Myanmar have been required to use VPN to access these social media applications.
Myanmar has historically had a long fight for democracy. After Myanmar's independence from the British in 1948, the country's political instability led to a military coup in 1962. The 8888 Uprising took place in 1988, and this military dictatorship in Myanmar lasted for approximately half a century until 2011 when democratic reforms were finally allowed to begin. Not wanting history to repeat itself, the citizens of Myanmar have responded to this catastrophe with more than just concern and recently started the Civil Disobedience Movement. Medical staff from 74 public hospitals have pledged to stop working so that they can protest against the coup. According to Myo Thet Oo, a doctor participating in the campaign, "We cannot accept dictators and an unelected government. They can arrest us anytime. We have decided to face it… All of us have decided not to go to the hospital." Social media users have changed their profile pictures to the red insignia of the NLD, and people from Myanmar have been posting pictures of themselves posed with three-finger salutes to resist the military coup that ousted the members of NLD. Considering the COVID-19 pandemic, the people of Myanmar have been peacefully protesting from their homes without any violent means. These protests include the clanging of metal pots at 8.pm. every night, which is a traditional gesture to drive away evil spirits and bad karma.
As more news of the coup has been continuously circulating, the international community has been well-aware of this occurrence. There have been several mass protests in countries including the United States, Japan, Thailand, Australia, by both native Myanmar people and foreigners who are fighting for Myanmar's rights. In a recent speech, the United States president, Joe Biden, stated, "The Burmese military should relinquish the power they have seized and release the advocates and activists and officials they have detained, lift the restrictions on telecommunications and refrain from violence." A statement from the United Nations Security Council has also been released, in which the members expressed deep concern at the military coup and the strong commitment to the sovereignty, political independence, territorial integrity, and unity of Myanmar. This statement was released after Russia and China blocked the UN Security Council Condemnation of a military coup.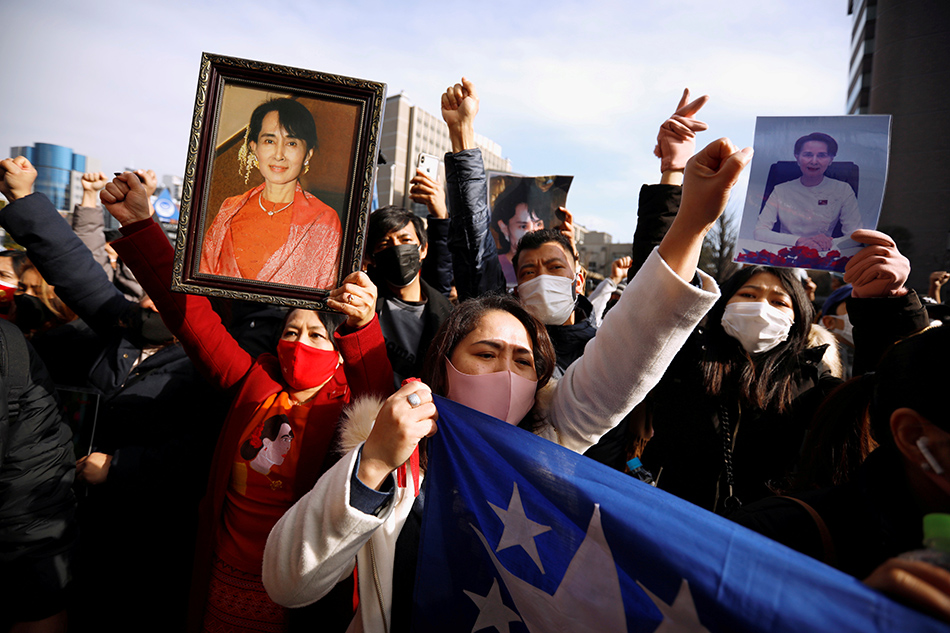 As a country already encountering enough economic and social hardships especially amid the COVID-19 pandemic, this political crisis is only adding up to the challenges that hinder Myanmar's development. Thant Myint-U, a former UN official from Myanmar, stated, "With a pandemic, tens of millions poor, severe economic downturn, climate change, million-plus refugees/IDPs, armed conflicts involving dozens of non-State armed groups, hundreds of militia: if there's one country that really can't afford a political crisis right now, it's Myanmar." Only if Myanmar continues to fight for democracy until the end will the citizens get the rights that they truly deserve.
---
Sources
https://www.bbc.com/news/world-asia-55902070
https://thediplomat.com/2021/02/civil-disobedience-movement-gathers-pace-in-post-coup-myanmar/
https://sea.mashable.com/culture/14367/myanmar-protestors-borrow-the-three-finger-salute-from-the-hunger-games
https://www.reuters.com/article/us-myanmar-politics-usa-biden/biden-says-myanmars-military-should-relinquish-power-after-coup-release-advocates-activists-and-officials-idUSKBN2A42QG
https://www.mmtimes.com/news/myanmar-bans-facebook-temporarily.html
https://www.un.org/press/en/2021/sc14430.doc.htm
Images
https://news.abs-cbn.com/overseas/02/07/21/thousands-rally-again-in-myanmar-against-military-coup
https://www.cfr.org/blog/myanmars-coup-aftershocks
https://www.voanews.com/east-asia-pacific/myanmar-military-blocks-access-facebook-resistance-coup-grows
https://theprint.in/opinion/behind-the-military-coup-in-myanmar-what-led-to-it-the-strategic-stakes-for-india/597830/
https://www.pbs.org/newshour/world/un-report-myanmar-military-committed-war-crimes-against-rohingya-minority
---
Feature Image: LYNN BO BO/REUTERS